ARARAT The Legend of Cosmos. Yerevan Brandy Company Presents Limited Edition of the Legendary Brandy ARARAT Five Stars – The Legend of Cosmos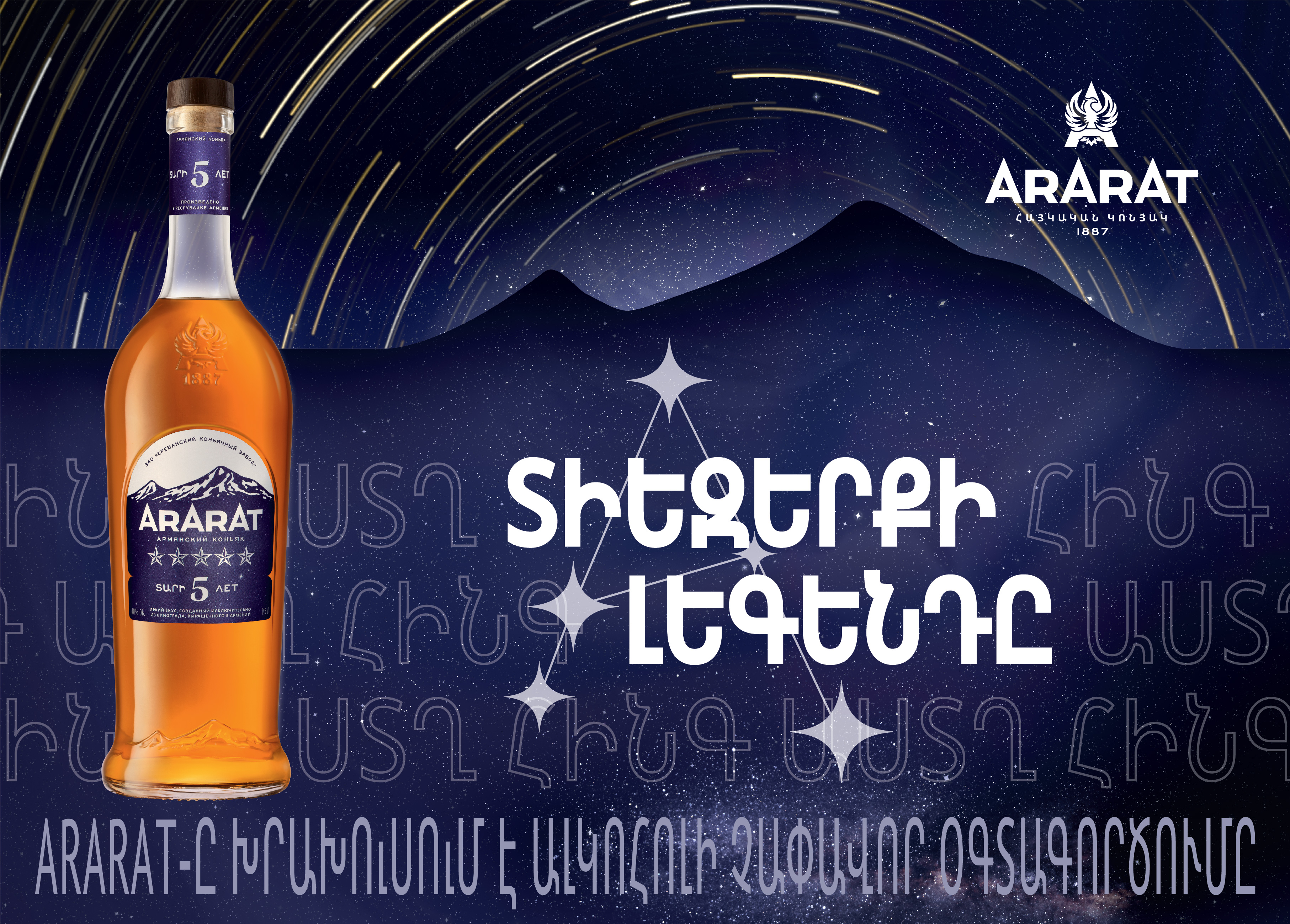 Since ancient times, people glanced at the sky to find inspiration and reveal mysteries. They found beauty in the twinkling stars and reflected their creative spirit in the stories that never cease to fascinate us.
Cosmos is unknown, unachievable but at the same time magnificent. We strive towards it by overcoming gravity, recording breakthroughs, and outstanding discoveries. Reckless dreamers, greatest innovators, and fearless pioneers are headed towards the stars. The cosmic accomplishments are the greatest moments of triumph of the human mind and perseverance.
By aspiring to new achievements with each day, Yerevan Brandy Company presents ARARAT 5-year-old brandy in a limited-edition package, which is dedicated to space - as an eternal idea of something incomprehensible, alluring, and ideal. With this new limited edition, YBC glorifies all the pioneers of the Universe, the innovators of their fields, the discoverers of new planets in various areas of humankind.
Crafted by the masters of Yerevan Brandy Company, ARARAT Five Stars is the blend that opened up new horizons of perfection for brandy-makers. One of the most known brandies of ARARAT range became the golden standard of its segment and the unbreakable symbol of its kind, especially for the true connoisseurs of the Armenian brandy.
The new limited edition of ARARAT Five Stars "The Legend of Cosmos" is the tribute to the founders and to all the generations whose creative fearlessness led them towards a journey of revealing new facets of mastery.
"ARARAT "The Legend of Cosmos" is yet another step towards expanding views on this classic brandy and another chance to showcase its legacy from new perspectives. Moreover, the new limited edition is a wonderful opportunity to create a dialogue with younger audience. ARARAT 5 Stars is a brandy with widespread distribution and is well-known among different generations. Hence, the creative idea that reflects such a rich and comprehensive notion as the Universe, has been applied around ARARAT 5 stars. ARARAT Five Stars "The Legend of Cosmos" is a tribute to epochal heritage and a  
covenant to keep looking at the stars and never quit the road to perfection," says Serge Khachatryan, Chief Operating Officer of Yerevan Brandy Company.
The most prominent blend of the legendary Armenian brandy – ARARAT Five Stars resonates with five shining stars on its package, together composing the constellation of letter A, as a symbol of beginnings of new horizons, new opportunities, and new triumphs.