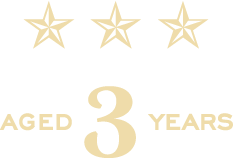 The three-year-old ARARAT Armenian brandy is the youngest in our range. A lively and spicy drink with a special character and rich taste that takes your breath away from the first sip. It's nice to share it with family and friends.
0,20/0,25, 0,5, 0,70/0,75 l
Important
details
Light amber color with sunny tints that will invariably draw the eye.
Intense yet harmonious, sweetish and slightly astringent at the end.
Fruit trees literally bloom in the glass. They are set off by notes of butter and oak.
Perfect
shape