The Awards Ceremony of the Golden Apricot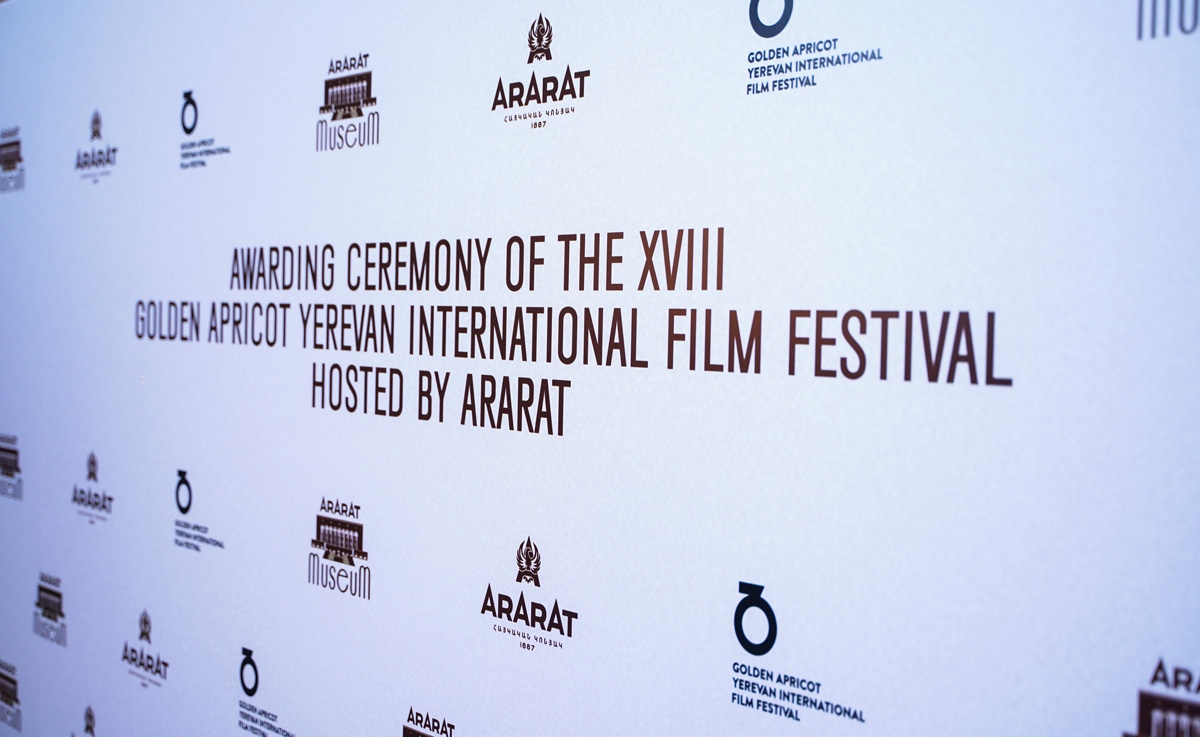 Following the well-established tradition, the collaboration of Golden Apricot & ARARAT legendary Armenian Brandies opened a new facet.
The creative team of the Yerevan Brandy Company in cooperation with the Golden Apricot Film Festival came to the conclusion to hold the closing Ceremony in a brand new manner, by putting a huge emphasis on reinventing traditions and their combination with an innovative approach.
Thus, Golden Apricot XVIII Yerevan International Film Festival was celebrated with redesigned Closing Ceremony which was hosted in a new location and enriched with the shades of the Legendary Armenian Brandy.
The Awards Ceremony was held in ARARAT Museum, which allowed the guests to reveal the heritage of Armenian brandy, as well as to discover the modern facets of ARARAT.
The Awards Ceremony was opened with the film "Under One Sky" staged by ARARAT and directed by Alexander Khant.
Additionally, within the framework of the Golden Apricot XVIII Yerevan International Film Festival, ARARAT brandy announced a special prize for the "Apricot Stone" short film nomination.
"Mastery, sincerity and passion towards the work. These are the words that represent the values of ARARAT brandy, which, I believe, are the creative secret of a great film. In this sense, our cooperation with the Golden Apricot Film Festival, first and foremost, is anchored on mutual values. I am more than sure, that this format will serve as a base for another wonderful tradition." — says Serge Khachatryan, the Chief Operating Officer of Yerevan Brandy Company.
"Cinema rediscovers its meaning by first interacting with people. In that sense, brandy is similar to it. By becoming a part of our sincere interactions, it unlocks human connections and revives the treasury of traditions. Hence, cinema and brandy aspire to reach a priority, to become a medium for transferring ideas and concepts. By having a strong & inspiring value system, both ARARAT and the Golden Apricot, strive for not only contributing to the development of the Armenian culture but also for reaching its international recognition." — says Karen Avetisyan, the Artistic Director of the Golden Apricot XVIII Yerevan International Film Festival.
The focus of ARARAT on cinema in different years is reflected both on the brand's various projects (from the partnership of Odesa Film Festival to the filming of a picture with an original concept), and on welcoming famous filmmakers, such as George Clooney, Nastassja Kinski, John Malkovich, Ornella Muti, Emir Kusturica, Ingeborga Dapkunaite, Alexei German Jr. and others.