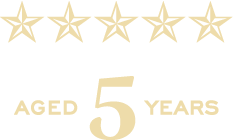 Five years old ARARAT Armenian brandy is a classic representative of the ARARAT range. For this blend, special brandy distillates are used, and they gave it a bright character and fullness of taste.
0,05, 020/0,25, 0,5, 0,70/0,75, 1 l
Important
details
Amber color with a noble golden sheen. It looks as if sunrays are stored inside of it.
Bright with caramel tones, toffee and fresh homemade pastry notes.
Sweet peaches and plums complemented by hints of vanilla and cinnamon.
Perfect
shape