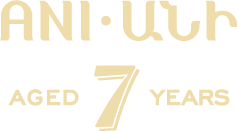 In the character of ARARAT "Ani" one can feel the refinement of a female name and the power of the great city of Ani, the history of which goes back to the depths of centuries of the homeland of Armenian brandy. We have carefully selected brandy distillates to create a 7-year-old ARARAT "Ani" blend for you.
0,05, 0,20/0,25, 0,5, 0,70/0,75 l
Important
details
Amber with rich warm mahogany shades.
It harmoniously combines tones of citrus, dried figs and sweet almonds.
Fresh and spicy with bright notes of orange, vanilla and subtle hints of almond.
Perfect
shape